Blog
What Are The Benefits of Using Custom Software Development?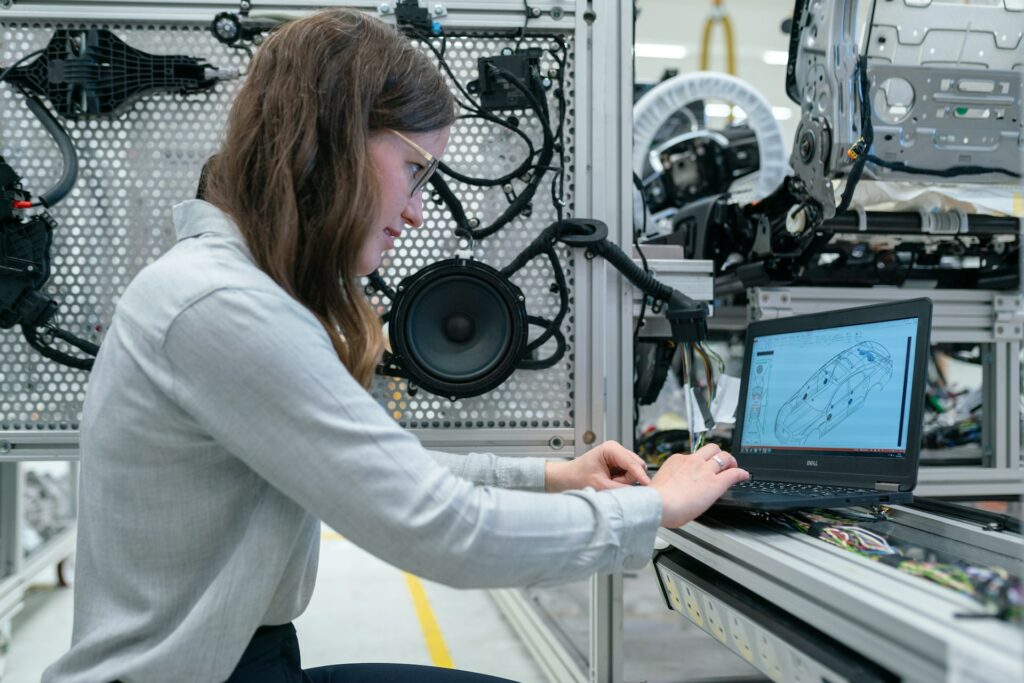 Introduction
As technology develops and customer demands are getting even higher, businesses are on the lookout for ways to keep up with ever-changing trends.
This is where custom software development has gained popularity. More and more companies are opting for such a solution to create unique pieces of software to solve even some of the most complex challenges a company has to face.
That being said, while custom software development isn't exactly for everyone, it could be what your business needs to achieve the success that it deserves!
Today, let's delve deeper into custom software development and talk about what you need to know about it to help you better understand how it could be a great solution for your business:
What's Custom Software Development
Custom software development is the process of creating specialized computer programs specifically tailored to meet the needs of an individual or business. It involves taking a client's ideas and requirements and transforming them into a software application that meets their exact needs.
This type of agile software development is different from off-the-shelf solutions as it is designed and built from the ground up to meet the client's exact needs. Companies increasingly turn to custom software development to provide unique solutions that more general software cannot provide.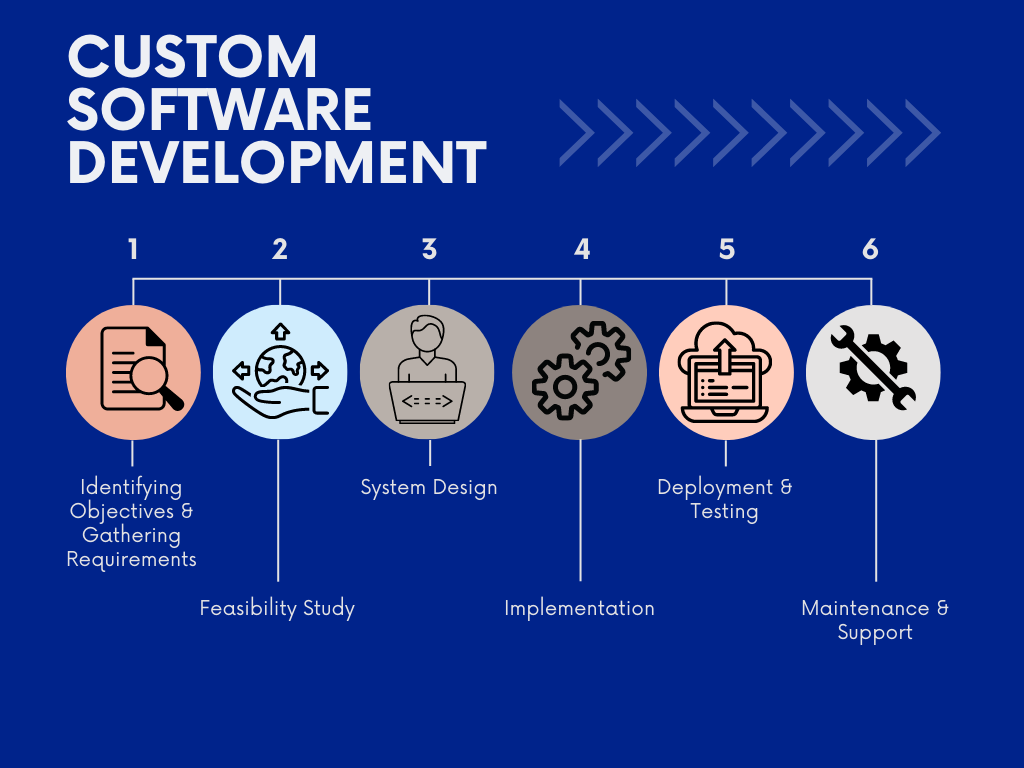 Infuse agility, efficiency, and access skilled expertise by outsourcing custom software development today! Schedule a brief, no-obligation call with us now. 🚀
How Does it Differ From Off-The-Shelf Software?
Off-the-shelf software is a pre-packaged solution that is ready-made and available to the general public for sale and distribution. Instead of catering to the needs of specific users, it is built for a wide range of users with a standard predefined framework and design.
How it is designed enables you to seamlessly integrate the software with your existing system. It does not necessarily require customization, as it is created keeping a large variety of audiences in mind.
Custom software development as we have mentioned is the process of designing, deploying, and maintaining software that meets the specific requirements of an individual or group of users in an organization.
It is usually developed by in-house developers or outsourced to a third-party contractor. Such software is primarily created to target the specific needs of businesses. It is commonly built with the purpose of serving in-house users, not for reselling the product on the market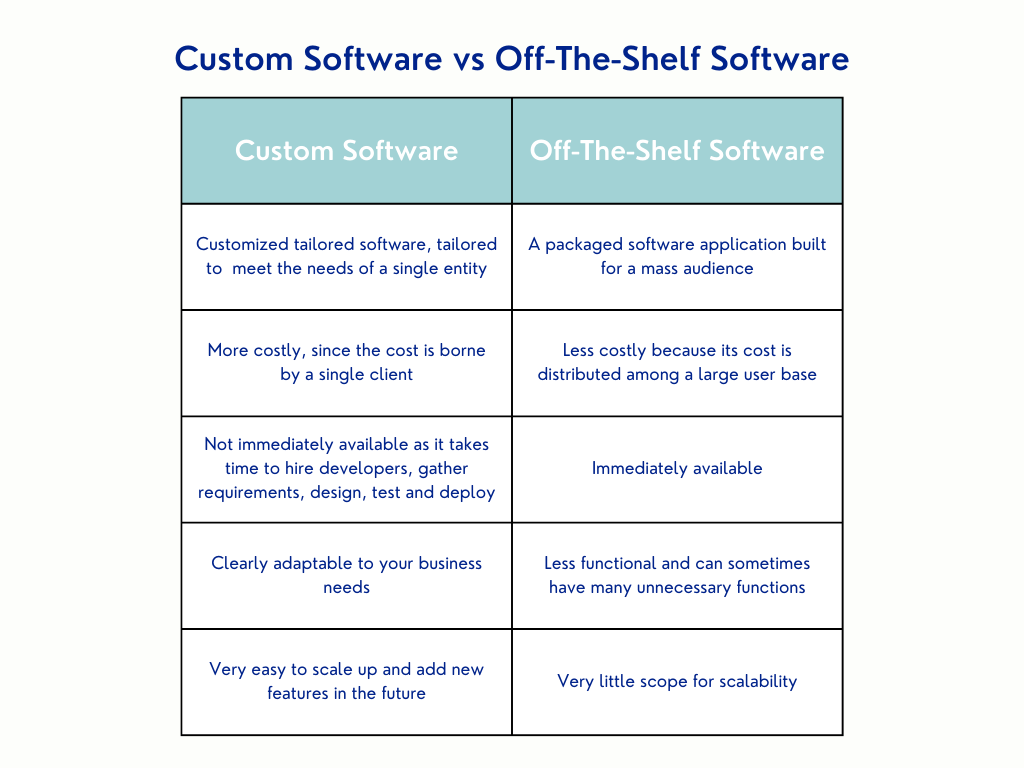 What Are Some Examples of Custom Software?
Below are some examples that illustrate how custom software can address the unique needs and requirements of various niche markets, providing specialized functionality and added value for users.
Medical Practice Management Software – Independent medical practices often struggle with managing multiple software solutions for EHR, billing, and practice management. Kareo identified this gap and developed an all-in-one, cloud-based solution specifically designed for these practices. This custom software streamlined the processes and eliminated the need to manage multiple tools, thereby catering to the unique needs of small and independent medical practices. Kareo (now a Tebra Company) offers a range of features, including electronic health records (EHR), practice management, billing, and patient engagement tools.
Agricultural Management Software – Traditional agricultural management software focused mainly on accounting and basic farm management. Granular saw a gap in the market for a data-driven farm management platform that could optimize operations. By building a custom software solution, Granular was able to address these unmet needs and provide a more comprehensive tool for farmers to improve their productivity. Granular helps farmers make data-driven decisions to optimize their operations. It offers features like crop planning, financial management, and inventory tracking, allowing farmers to manage their resources efficiently.
Museum Management Software – Museums often require specialized software to manage their unique collections and exhibits. Many off-the-shelf solutions were not designed specifically for museum management, leaving a gap in the market. PastPerfect recognized this need and developed a custom software solution tailored to the needs of museums, streamlining the cataloging and management of valuable collections. PastPerfect assists museums in cataloging, managing, and tracking their collections, exhibits, and loans. It helps streamline documentation while ensuring the museum's valuable assets are properly maintained and preserved.
Supply Chain Management for Pharmaceuticals – The pharmaceutical supply chain is a highly regulated and complex industry, with many existing supply chain management solutions falling short in addressing specific requirements. TraceLink built a custom software solution to address this gap, focusing on traceability, regulatory compliance, and product quality for the pharmaceutical industry. TraceLink helps companies ensure compliance with regulations, track and trace products throughout the supply chain, and maintain product quality and safety.
Custom E-learning Platform – The e-learning market has many off-the-shelf LMS solutions, but they often lack customization and flexibility for specific business needs. Docebo saw an opportunity to create a custom e-learning platform tailored to the unique requirements of each organization, enabling more effective and engaging learning experiences. Docebo provides tailored training programs, content management, and assessment tools to create engaging and effective learning experiences.
Film Production Management Software – Film production involves many complex processes that can be difficult to manage with generic project management software. StudioBinder identified this gap and developed a custom software solution specifically designed for film production management, streamlining pre-production and production processes for filmmakers. StudioBinder offers tools for script breakdowns, shooting schedules, call sheets, and managing crew and cast information, making it easier for filmmakers to coordinate their projects.
Environmental Monitoring Software – Traditional environmental monitoring software solutions often focused on specific aspects of environmental management, leaving a gap for a comprehensive solution. Envirosuite built a custom software platform to address this need, providing real-time analytics, alerting, and forecasting tools to help organizations make informed decisions and mitigate environmental risks. Envirosuite helps organizations monitor and manage air and water quality, noise, vibration, and weather data. It provides real-time analytics, alerting, and forecasting tools to support informed decision-making and mitigate environmental risks.
Fitness and Wellness App for Yoga – The fitness and wellness app market is crowded, but many apps offer generic or one-size-fits-all content. Glo saw an opportunity to create a custom yoga and meditation app that provided personalized recommendations and tailored classes, resulting in a more engaging and effective wellness experience for users. Glo provides personalized recommendations based on user goals, interests, and experiences, creating an engaging and effective wellness experience.
Why Do Businesses Need Custom Software Development?
Businesses need custom software development for a variety of reasons. It allows them to create software tailored to their needs and processes, which can be much more efficient and cost-effective than off-the-shelf software.
It also allows businesses to create unique solutions and consulting services that can give them a competitive edge in their industry. Finally, custom software development allows businesses to create applications that are tailored to their specific user base, which can create a better user experience and potentially increase customer satisfaction.
🎙️ Podcast
How Anthony Joiner validated his SaaS idea and won $120k at a startup competition
What Are the Benefits of Custom Software Development?
There are a host of benefits to be had with custom software development, and the following are just some of the many examples:
1. Better Flexibility
Custom software development offers an amazing opportunity for businesses to create solutions that perfectly fit their needs. It allows you to create something that is tailored to your exact requirements, and you can adjust the parameters to whatever you need.
You can decide which features you want to include and which ones you want to exclude, allowing you to customize the software to your precise specifications.
Because of all that, custom-made enterprise software is more advantageous than pre-made software thanks to its flexibility and scalability. It can be designed to fit the user's exact needs and can be modified as operations and productivity need to change.
2. Improved Scalability
As your business scales, you may discover that off-the-shelf software solutions need to be more capable of meeting your needs.
It may become too costly to keep up with licensing fees, or it may need help to handle the increased demand of your business. When that happens, it is necessary to look into custom software solutions to move with the changing needs of your business.
Investing in a system that can evolve with your business can be smart. This will ensure you don't hit any roadblocks to growth due to outdated software. With the right technology setup, you can expand without limitations.
3. They're Tailor-Made
When you buy pre-made software, it may not always be completely tailored to your organization's needs. On the other hand, personalized software allows you to create an application tailored to your requirements.
You can take advantage of this process to identify and address areas of optimization, which can ultimately lead to higher operational efficiency and output.
By obtaining the services of an external specialist, you can gain access to their expertise and experience to identify and improve the efficiency of the processes within your business. This would allow you to streamline operations and reduce costs, leading to improved profitability. Speaking of,
4. The ROI
Custom software can require a significant initial investment but may bring higher returns in the long run. Pre-made software packages can also be costly and require additional hardware, powerful servers, or version upgrades to function efficiently. Furthermore, you must pay annual license fees to keep using the software.
Custom software is expensive to develop initially, but the costs become much smaller when considering long-term savings. It is important to calculate the return on investment of custom software versus the cost of buying off-the-shelf software and other associated costs to determine if the expensive upfront cost of custom software will be worth it in the long run.
You should calculate ROI to determine if it is worth investing in custom software development services. It will cost a lot upfront but could save money over time compared to buying license fees for off-the-shelf software and other costs.
5. Better Security
Custom-written software offers the advantage of being tailored to your security needs. It is designed with your organization's specific requirements in mind, making it less likely that malicious actors will be able to break into your systems.
It is not as widely used as COTS, so it is not as vulnerable to attack. This makes it a much more secure option for organizations that must protect their data and systems.
It's advisable to always have the option to use on-premise and integrate with any internal user management systems.
6. Compatibility
Creating unified communication between different software systems can be challenging. If your organization is utilizing multiple programs, you may need to create a bridge that enables data to be shared easily between them.
This can be hard to do if you don't have a custom-built solution. On the other hand, creating personalized software allows for easier integration with other software. Pre-made programs may offer limited options for connecting with other programs, but they will only sometimes be as smooth as desired.
7. Cost-effective
Custom software can be an excellent way to save money, especially if you hire a developer from a more economical country. For instance, countries in Eastern Europe or Latin America have experienced software developers who can give you excellent value-added custom software solutions at a much lower cost than in Western Europe or the US.
8. Ease of Operation
Custom software is beneficial because it is tailored to your needs. It is not overloaded with features you do not need, making it easier to use and more efficient. The software has only the features necessary for your operations, making it simpler and less cumbersome.
By utilizing automation, businesses can streamline various processes and procedures, resulting in improved efficiency and reduced expenses. This will ultimately lead to increased profitability and cost savings.
9. Low-code Development
Low-code development takes the benefits of custom software development while having lower costs. The advantages of low-code platforms for organizations seeking to enhance internal interactions and customer experiences are being recognized.
📖 Blog
Low Code Software Development: How to Use It to Build Your Business
Low code development platforms are increasing as new citizen developers are taking part in delivering custom applications (apps) without utilizing traditional development methods and programming languages. This is leading to more cost-effective ways of custom software development.
10. Longevity
At times, businesses that make and distribute software products launch updated versions of their software, no longer offering support for the older versions. Additionally, companies only provide customer service or assistance if they leave the business. However, custom software offers more flexibility, control, and security than off-the-shelf software.
Businesses can design and develop software to meet their needs, ensuring the perfect solution to streamline processes without worrying about compatibility issues or losing functionality.
Additionally, custom software allows for more control and security, as you can configure it to your security standards, and you don't have to worry about the potential for malicious third-party software to access or interfere with your data.
11. Dedicated Support
Custom software development involves creating programs and applications specifically tailored to a company's needs. It is done by a team of experts who design, create, and maintain the software. They provide dedicated support to ensure that any problems that arise are addressed quickly and efficiently and provide ongoing maintenance to ensure the software is secure and running optimally.
12. Potential Business Opportunity
Creating your own internal solution can be a great way to generate additional income. By taking the time to develop a unique software solution, you can license it or offer it as a White Label product to other businesses.
You will be able to control the rights to the source code and decide what to do with it, such as charging a flat fee for the use of the software. This will provide you with a valuable asset that can be sold multiple times, potentially providing a steady income stream.
The only thing to remember is that, when beginning, it might be useful to use a white-label solution. However, if you are in a highly competitive market, this may not be a viable option in the long run.
What Are Some Disadvantages of Custom Software Development
1. Steep initial costs
Creating custom software is expensive and may not be the best financial decision for some companies. Before committing to the software project, it is important to consider the potential returns and decide if the cost will be worth the benefit.
2. Initial effort required
When it comes to custom software, a substantial amount of time is required to get the desired solution. Companies must invest their time in providing precise specifications, testing the software, and ensuring the final product serves its purpose.
Creating custom software can be an involved process. It may take multiple attempts to get the desired outcome, and it can be a time-consuming experience. It may be tiresome for the user or the teams working on the project to go through the various stages of software development.
Rather than opting for a pre-made solution, building software from scratch can take a long time to finish. The tailored program will better suit the company's unique needs despite the longer delivery time.
3. Support and Documentation
Support and documentation can be a problem if you are not aware of how the software house goes about it. With the use of custom software, the unavailability of the original development team or developer for support makes it very difficult and sometimes impossible to get others capable of updating or adding new features to the software.
As you begin an engagement, it's critical that you ask about the processes that the developer or development team uses for support and documentation.
It's very important to make sure that your developers ensure that the software is as scalable as possible making it easy for you to easily make changes and improvements in the future. Everything should also be clearly documented and each step noted down for ease of reference.
4. Maintenance is more expensive
Custom development comes with higher rewards, but it also comes with higher but smaller costs at scale. These expenses include software maintenance features such as performance optimizations, updates, backups, testing, and bug fixes.
When your software is custom-made, it means you'll need a very specific team of developers to help maintain it working properly. Commercially licensed sites can be handled by many developers.
5. The risk of choosing the wrong custom software development company
Picking the wrong software development company for your custom software solutions can be a huge mistake and can cost you tens or hundreds of thousands in the long run. Why? It means that you have invested funds for a project that cannot be completed and delivered.
Not only that, if you do get the project underway and realize the vendor is not as good as you had hoped, getting back to the 'beginning' or 'start' can be quite difficult.
Picking the wrong technologies for custom software development projects can make it difficult and costly to maintain the software and develop new features due to factors like incompatibility issues, obsolescence, and limited community support.
At Trustshoring this is something we consult on thoroughly to make sure that whatever technology you choose helps you build software that is scalable.
The Cost of Custom Software Development
Custom software development has numerous benefits, including tailored functionality, flexibility, and a competitive edge. However, it also comes with an initial upfront cost and effort required to begin the development process.
Understanding the various factors that influence the cost of custom software development is essential for companies considering this investment. So what are some of these factors?
Initial and Upfront Cost – As we mentioned before, investing in custom software development entails a considerable initial cost and effort to start the project. This includes planning, requirement analysis, design, development, testing, and deployment. Companies must allocate resources, time, and budget to ensure a successful project outcome. This initial investment can be substantial, but the potential long-term benefits and competitive advantage often justify the cost.
The complexity of the software – The cost of custom software development varies widely depending on the software's complexity. This encompasses the sophistication of features, the depth of functionality, and the overall system architecture. Complex software requires more development hours, specialized expertise, and rigorous testing, which translates to higher costs. However, more straightforward applications with fewer features and functionalities may be more cost-effective to develop.
Data and Integration Requirements – Another factor that impacts the cost of custom software development is the amount of data and the number of integrations with other systems. Software that needs to handle large volumes of data or connect with multiple external systems requires additional development time and expertise. This added complexity can lead to increased costs, but it is essential for software that needs to be tightly integrated with other business processes.
Scalability and Security Requirements – The cost of custom software development is also influenced by its scalability and security requirements. Software designed to accommodate thousands of concurrent users is more expensive to develop than software for a few dozen internal users at a single company. This is because scalable software requires more robust infrastructure, additional testing, and careful optimization to ensure it can handle increased loads without compromising performance or security. Similarly, software with stringent security requirements will also require additional investment to ensure data protection and compliance with industry standards.
Leveraging Low-Code Solutions – For companies seeking cost-effective custom software solutions, Low-code platforms offer an attractive alternative. Low-code platforms enable businesses to create customized applications with minimal coding, reducing development time and cost. These platforms are particularly well-suited for internal software that does not require the same level of scalability and security as externally-facing applications. By leveraging Low-code solutions, companies can achieve the benefits of custom software development while minimizing the associated costs.
We've been privileged to work on over 300 projects and we normally see the initial versions of custom software to be between $50k and $100k but that varies and has been significantly more and less for various projects we've consulted on.
Don't hesitate to reach out to us if you have questions regarding the costs of different versions of custom software.
Why wait to discover the benefits of custom software? Schedule a brief, no-obligation call with us now, and let's explore how custom solutions can elevate your business! 🚀
In Summary
While designing your software with the help of IT professionals does take more time and money at the onset, it will protect your business from many problems later on.
Since it's a home-grown program that adapts to your needs, it can be rewritten to streamline processes and make workflows more efficient from the executive down to the employee level.
Partner with Trustshoring for Personalized Software
We connect you to skilled developers who can launch and scale your business faster with reliable, cost-effective solutions. Find out more about us by having a look at our work or schedule your free consultation today!
Book A Free
15-minute Call
With Us.
If you need expert advice in launching or scaling your saas business
vp@trustshoring.com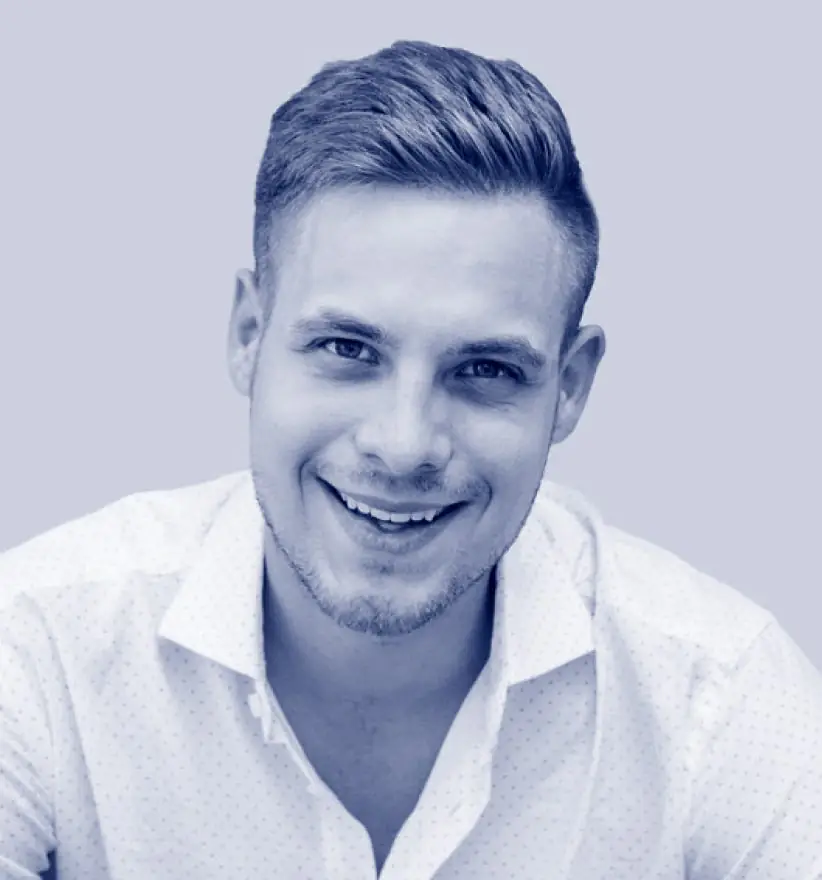 Victor Purolnik
Trustshoring Founder
Remote software engineering expert with CS and engineering management background, having built remote product teams for 10 years.
Author of the Complete Outsourcing Playbook and podcast host.
CEO of Trustshoring.