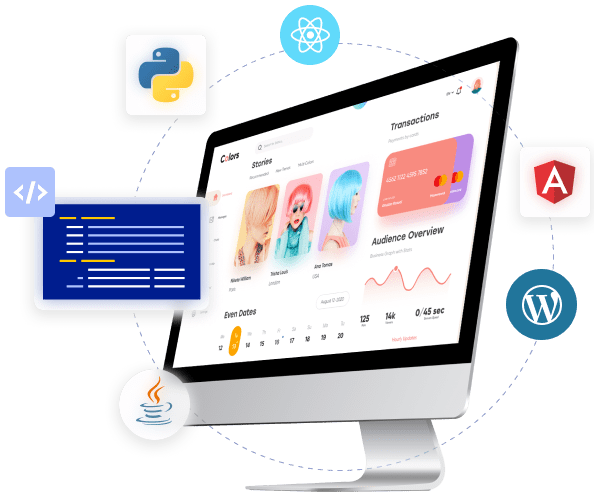 Get started
Hire
Python Developers

with Trustshoring

We match  you with experienced and skilled python development teams to help bring your web applications to life.

Get started
Why would you choose to hire
Python Developers

with Trustshoring?
Trustshoring matches you with experienced and skilled python development teams to help bring your web applications to life.
Experience

We match you with highly skilled and dedicated Python developers with experience in creating a wide range of back-ends.

Save time and resources

We help you hire the right Python developers the first time who can create a custom solution that meets your specific needs and requirements.

Firefighting:

If you already started a project but encountered problems with the development team. We will help you with getting the right developer who will move your project forward. Say goodbye to constant firefighting.

Team augmentation:

We help you expand your team of existing developers, bring in remote Python developers and not have to worry about micromanaging them.
Мore than
253 companies

trusted us to build their software development teams
Access the full range of Python development

We'll match you with the best Python developers to cater to your specific development needs. These include - Web design and development, data analysis and visualisation, AI &ML, Scientific computing, Web scraping, IOT, Game development, Automation and more

Proactive and efficient talent

Trustshoring has helped more than 253 companies that have trusted us to help build their software development teams. We give you access to a diverse and highly skilled team of Python developers from around the world.

Continuous business support

Once we match you with a team of developers we don't stop there. We provide you with ongoing client support, to help you with any issues you may have and cater to your changing needs and priorities.
Request a
free

consultation

Talk to our experts about your challenges and we will help you to solve all your product development needs.

Get started
Our Process
Choose a suitable way to hire Python developers
Initial Contact and discovery

The first touch point will be with a team member. We will seek to understand your project requirements in detail, your product, workflow, duration and all the development needs you require.

Candidate or agency interview

Once we've understood your needs, we start looking for the right Python developer in our database with the right expertise. We then present you with only relevant CVs or agencies for you to interview.
FAQs
Who is a Python Developer?

A Python developer is a software developer who specializes in the Python programming language. They are responsible for writing server-side web application logic. They develop back-end components, connect the application with the web services and support the front-end developers by integrating their work with the Python application. They are also responsible for database design and management, and may also work on data analysis and visualization tasks.

What services can a Python Developer provide?

Python developers can help you with the following services – Web and software development using frameworks such as Django, Flask and Pyramid. Data analysis and visualization, ML &AI, Scientific computing, Web Scraping, Game development, Internet of Things (IoT), Automation, System administration and more

How do you match me with the right Python developer for my project?

Once we touch base with you during our initial call, we take time to understand your business and your exact development needs. We then match you with developers and teams we've worked with before, and who have the experience needed to tackle your project.
Work with top
Python developers
Execute your project with trusted and reliable developers perfectly suited to your business needs.
Book a Call