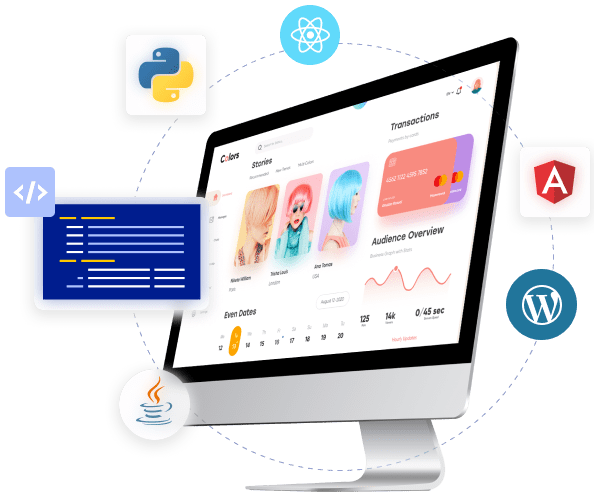 Get started
Hire
Machine Learning Developers

with Trustshoring

Hire a Machine Learning developer and enhance your clients' experiences with smart AI features and automations within your software by applying machine learning models. Trustshoring matches you with experienced and skilled Machine Learning development teams that help you optimize business processes.

Get started
Why hire
machine learning developers

with Trustshoring?
Trustshoring matches you with experienced and skilled Machine Learning development teams that help you optimize business processes.
Access the full range of Machine Learning development

We've got a talent pool of skilled and experienced developers, giving you access to the full range of ML development that includes - ML Powered chatbots, Process Automation, User behaviour Analysis, Image and Video Processing, Facial Recognition, Pattern and Image recognition, Robotic Process Automation, Predictive Analysis and more.

Proactive and efficient talent

Trustshoring has helped more than 253 companies that have trusted us to help build their software development teams. We give you access to a diverse and highly skilled team of ML developers from around the world.

Continuous business support

Once we match you with a team of developers we don't stop there. We provide you with ongoing client support, to help you with any issues you may have and cater to your changing needs and priorities.
Мore than
250 companies

trusted us to build their software development teams
Request a
free

consultation

Talk to our experts about your challenges and we will help you to solve all your product development needs.

Start Today
Our Process
How Does Trustshoring Work?
Initial Contact and discovery

The first touch point will be with a team member. We will seek to understand your project requirements in detail, your product, workflow, duration and all the development needs you require.

Candidate or agency interview

Once we've understood your needs, we start looking for the right ML developer in our database with the right expertise. We then present you with relevant CVs or agencies for you to interview.

Candidate or agency hire

Once we've found the best candidates, you can then interview them and decide to hire or decline. If you decide to hire, we'll handle all the paperwork and onboarding. If you don't find a match, we resume the sourcing process to find you the perfect candidate.
FAQs
What qualifications should I look out for in an ML Developer?

A good machine learning developer should have a strong background in computer science, mathematics, and statistics. They should also have experience working with programming languages such as Python, R, or Java, as well as experience with common machine learning frameworks such as TensorFlow or Scikit-learn. Look for candidates who have completed relevant coursework or certifications in machine learning or data science, and who have worked on projects involving data analysis, modelling, or algorithm development.

How can I ensure that I'm hiring a skilled and experienced ML Developer?

There are several steps you can take to vet candidates and ensure that you're hiring a skilled and reliable machine learning developer. First, review their work history and portfolio to see if they have experience working on projects similar to your own. You can also ask for references or case studies from past clients to get a better sense of their skills and reliability. Consider administering a skills assessment or technical interview to assess their problem-solving skills and understanding of machine learning concepts. Finally, make sure to discuss project timelines, communication expectations, and other logistical details upfront to ensure that you and the developer are on the same page.

How do you match me with the right ML developer for my project?

During our initial call, we will understand your business and development needs and match you with developers and teams that have the relevant experience. To tackle your project.
Work with top
Machine learning developers
Execute your project with trusted and reliable developers perfectly suited to your business needs.
Book a Call
Looking for a specific type of talent?