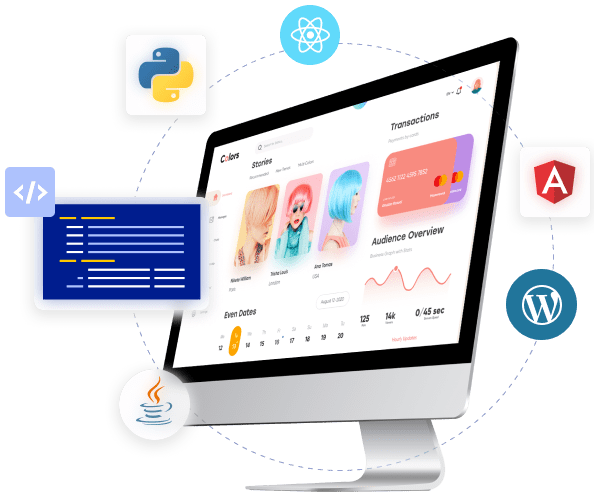 Get started
Hire
Artificial Intelligence Developers

with Trustshoring

Hire an AI developer that helps you build resilient and fast machine learning models and scalable data platforms. Trustshoring matches you with experienced and skilled AI development teams that help you unlock the potential value of AI and bring transformation to your business.

Get started
Why would you choose to hire
Artificial Intelligence Developers

with Trustshoring?
Experience

We match you with highly skilled AI developers with experience in building machine learning models from the ground up to aid organisations in making informed decisions. .

Save time and resources

We help you hire the right AI developers the first time who can create custom models quickly and at affordable rates.

Firefighting:

If you already started a project but encountered problems with the development team. We'll help you find the right developer to move your project forward. Say goodbye to constant firefighting.

Team augmentation:

We can help extend your existing development team with skilled remote AI developers, that ensure quality and help you streamline your project.
Мore than
253 companies

trusted us to build their software development teams
Access the full range of AI development

We've got a talent pool of skilled and experienced developers, giving you access to the full range of AI development that includes - AI-driven mobile/web app development, Language AI, Conversational AI, Natural Language Processing, AI Security AIaaS (AI as a Service), Computer Vision, AIoT (AI of things) and more

Proactive and efficient talent

Trustshoring has helped more than 253 companies that have trusted us to help build their software development teams. We give you access to a diverse and highly skilled team of AI developers from around the world.

Continuous business support

Once we match you with a team of developers we don't stop there. We provide you with ongoing client support, to help you with any issues you may have and cater to your changing needs and prioritiesOnce we match you with a team of developers we don't stop there. We provide you with ongoing client support, to help you with any issues you may have and cater to your changing needs and priorities
Request a
free

consultation

Talk to our experts about your challenges and we will help you to solve all your product development needs.

Get started
Our Process
Choose a suitable way to hire Artificial Intelligence developers
Initial Contact and discovery

The first touch point will be with a team member. We will seek to understand your project requirements in detail, your product, workflow, duration and all the development needs you require.

Candidate or agency interview

Once we've understood your needs, we start looking for the right AI developer in our database with the right expertise. We then present you with relevant CVs or agencies for you to interview.
FAQs
In what other projects can I use AI besides prediction?

AI is not only limited to prediction and classification. Following are a few other use cases where it can be used and implemented:

Image Processing (Correct image quality, Image Analysis, Image Synthesizing, Image Captioning)

Text Generation (For Q&A, Chatbot Response, Text Summarization)

Video Processing (Identifying actions and humans present in the video, Video summarization)

How can I integrate my applications with AI?

The integration entirely depends on the Language used in your existing application; however, a RestAPI-based URL can be generated and integrated into the application in the same cloud to reduce data transfer issues. Usually, most cloud AI services are used to make it accessible via standard API calls.

How do you match me with the AI developer for my project?

During our initial call, we will understand your business and development needs and match you with developers and teams that have the relevant experience. To tackle your project. 
Work with top
Artificial Intelligence developers
Execute your project with trusted and reliable developers perfectly suited to your business needs.
Book a Call
Looking for a specific type of talent?