How to Efficiently Create Custom Software Development for Startups
Whether you're in the stage of your business when you're planning to launch a SaaS company and trying to find your niche, or if you're looking to create custom software for your start-up business, this article is for you. The intricacies around custom software development can be difficult to understand if you're not from the tech-world, however, it doesn't have to be! In the article, we will be going through the various stages of how you can efficiently create custom software for your start up business. 
Conduct market research
Every SaaS founder is faced with the inevitable question of, who wants this and are they willing to pay for it? Some of the best SaaS products came from solving an individual problem, building that out and improving it for others. So, how do you answer the question of knowing whether your custom software is what people are going to want? Market research. 
Problem and solution
Once you've successfully identified a particular pain point, and come up with the idea of what the potential software solution could be- this is when you're better placed to understand where your product can fit into the current market. In one of our Product Stories podcasts with Shane White, we covered this topic in detail. One of the excerpts from the podcast that stood out from Shane was:
If I were to start brand new today, I would look for, what I think is really interesting is I would find a niche or a market where you see all these big, big players, but they're only servicing enterprises. And you can't get this tool, you can't get this thing for smaller businesses without the budget. So like an example, so free idea for anyone listening. Shane White

Developer, SaaS founder
Ideal customers
Begin to map out your ideal customer, add details such as: 
What makes this solution beneficial to them? 

 

Why would they choose your SaaS product over another? 

What impact does it have on their business/problem and how much would they pay for it? 
Potential market size
Mapping out your ideal customer is likely to give you an indication of industry and niche. This allows you to estimate your potential customer base.  The success of your SaaS product is based on the viability of its potential revenue.
Competitor analysis and test group research 
Understand your competitors, and know what makes your USP better. Keeping in mind the points of your ideal customer. This will allow you to determine your market share based on the added value of your SaaS offering. 
Set clear requirements for your software
Setting clear requirements is the basis of all custom software development. This is where you set the golden standard of defining your primary goals and requirements. Your requirements should be as concise as possible. This will aid you in keeping tabs on all costs involved, as well as avoid any potential misunderstandings. When it comes to receiving estimations from developers, estimates can generally come from a place of dealing with similar projects. Majority of the time, these estimates can be inaccurate, and end up causing you either time or money. We've created a handy estimate sheet to send to developers along with the documentation.
Hire software developers
There are three options for you to consider when choosing your software development team. You can either use freelancers, create your own in house software developers or make use of
companies that serve start-up SaaS businesses. Let's discuss these in more detail.
Hire developers in house
In a start-up business environment, it's not always a reality that you'll be able to hire a team of software developers in-house. Of course, the advantages to having a dedicated team of specialists all under the same umbrella, working without distraction to one common goal would be ideal, but this is likely a very costly option in this environment.
Hire freelance software developers
This is often an option that presents itself to be the most cost-effective, but also, the one that might present the most risks. Nearshore.perficent features a graph that explains this quite well: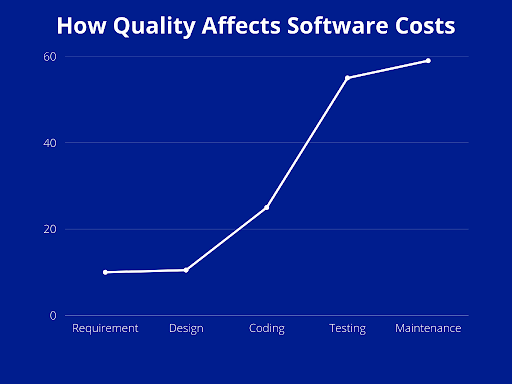 Outsource software development companies
So when you're looking to keep costs down, not willing to risk below par work or potential losses, looking at a company that specializes in creating SaaS products might be the answer that ticks off all the boxes. A team of dedicated software development professionals with vast experience and it's cost effective? It's also highly likely you'll receive ongoing support. 
Choose the software development framework 
One of the bigger decisions you'll need to make when developing a custom software solution, is what development framework you'll be using. This is the platform on which your software application will be developed. These frameworks are made up of different components that typically include code libraries and programs alike. Some of these include:
PHP

Phalcon

.Net – to name a few.
Your software development professionals will be able to advise which would be preferable for your particular product.
Begin with a minimum viable product
The MVP approach is an incredibly popular one done by SaaS founders all over the world, and with good reason! Especially useful if you're bootstrapping your startup, the MVP approach ensures your costs are kept to a manageable level. Beginning your SaaS product journey with a minimal viable product gives you two main advantages:
1.     Cost reduction
2.     Shorter time to hit the market 
A minimum viable product will give you the basic functionality of your software product, allowing you to test the idea. This will serve as the base bones of your product and allow you to build on the idea and functionality based on feedback, and allow you to start testing in real time. 
Start testing early
It is always advised that tests begin at the very early stages of the software development cycle. In an effort to avoid a situation where bugs and errors build up to be a bigger problem later on, the more testing done early, the better! There are tons of cases where this wasn't done, and not only did it end up costing the business way more than anticipated, the time-to-market date was also pushed back quite significantly. 
By ensuring you're testing early, and regularly, you're in a position to fix issues before they become big enough to disrupt your timetable. Remember, the sooner you're able to push to market with a minimal viable product, the sooner you are able to get feedback from your target audience and reach the stage where your SaaS product is bringing in MRR.
Software development methodologies 
Software development methodologies are put in place with the singular goal of following a systematic approach to the software development lifecycle. These are the processes involved when working on a project.
In one of our more recent podcasts, we actually discussed software development methodologies – be sure to give it a listen if you're interested. Let's go over the two most popular below. 
Agile software development model
Projectmanagement.com defines the agile method as:
Agile development is a team-based approach that emphasizes rapid deployment of a functional application with a focus on customer satisfaction. It defines a time-boxed phase called a sprint with a defined duration of two weeks. At the start of each sprint, a list of deliverables are prioritized based on customer input. At the end of the sprint, the developers and the customer review and evaluate the work with notes for future sprints. As a methodology based on general principles, more specific methods based on processes such as Scrum and Kanban are called types of agile methodology.
This method is great as it enables you to have a faster software development life cycle and predictable schedules. However, this is assuming you have in-house or remote software developers solely dedicated to your project. 
Waterfall software development model
The waterfall method divides the software lifecycle into phases that typically consist of gathering, analysis and design, coding and unit testing, system and user acceptance testing, and deployment. You won't move to the next phase until the previous is complete. This allows you to have a defined scope of work, dedicated resources for particular tasks and straight forward deliverables. This however, might not be ideal if you're working on a large scale software project. It also typically doesn't allow for much testing.
We always advise to use whatever methodology works for your business goals. Whether it's agile, waterfall or a combination of the two. 
Get strategic advice on custom software development outsourcing 
Creating custom software development in a start-up environment can be challenging. As you can see, there are numerous factors to consider. Finding the right team being one of the most crucial. This is what we do. To get recommendations of the best web development companies in Europe, drop me a line at vp@trustshoring.com.